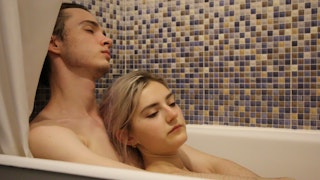 Artem & Eva
Works In Progress
Artem & Eva
Russia-Estonia-France, 90 mins, 2021
A coming-of-age story set against the background of contemporary adult industry and hard choices you have to make.

Artem and Eva are a young couple who came to Moscow from the northern city of Omsk to study at the university. They didn't have enough money to pay rent and tried to make a video for PornHub - very quickly it got millions of views and got to top-10. Soon they are nominated to PornHub Awards and travel to Los Angeles - while their parents think they're getting ready for the exams in Moscow. In Las Vegas they got married - to stay together forever and ever. After the nomination they get lots of offers from different porn studios from around the world, but they always stick to their main principle - not to have sex with other partners. Artem lets Eva to film with girls, but even then he is jealous.
Now they feel the taste of luxury life, and they realize a fun hobby starts to turn into a real profession. Eva likes attention and enjoys working in porn industry, but Artem is confused by the idea. What's gonna be their final choice - to become real porn stars or ordinary people with 'normal' professions? It makes the conflict between Artem and Eva, and of the whole film.
Stage - Production
Production - Tvindie (Russia), Marx Film (Estonia), Petit-a-petit Production (France)
Director - Eugeniy Milykh
Producer - Eugeniy Gindilis
Co-producers - Maria Gavrilova, Max Tuula, Rebecca Houzel