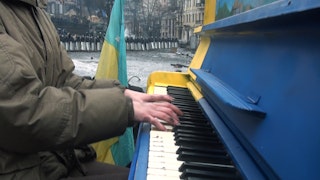 Kiev/Moscow. Part 1 and Part 2
Films
Kiev/Moscow. Part 1 and Part 2
KIEV/MOSCOW. Part I and Part II
A documentary duology about the crucial events in Ukraine in 2013 - 2014 through the eyes of ordinary Ukrainians and Russians.

Russia-Ukraine-Estonia, 60 min (Part 1) / 80 min (Part 2), 2015
Special Prize at Locarno IFF 2015 (Part 1)

premiere at Odessa IFF 2015 (Part 2)
Director - Elena Khoreva
Producers - Pavel Kostomarov and Alexander Rastorguev
Co-producers - Maria Gavilova and Max Tuula
Authors - Elena Khoreva, Yevgenia Ostanina, Andrei Kiselyov, Maxim Pakhomov, Anna Dombrovskaya, Artur Moryakov, Beata Bubenets, Susanna Baranzhieva, Elena Khoreva, Tatiana Vikhreva, Yulia Tarantul, Zosya Rodkevich, Katerina Gornostay, Dmitri Vakulin, Maria Revenko, Ruslan Guzov, Tanya Gavrilyuk Andrei Kovalevsky, Maxim Demsky, Ilya Kalashnikov, Keti Bidzionashvili, Arseni Razin, Alina Leonova, Galina Kononchuk, Alexandra Geylik, Anatoli Buravin, Yuri Agapov, Natalya Katayeva, Dmitri Shcherbakov, Mikhail Moskalenko and others

Production companies - Reality.doc (Russia) / Marx Film (Estonia)
Maidan Nezalezhnosti, or Independence Square, is the central square in Kiev which gave its name to the massive anti-government rallies that took place in winter 2013-2014 and eventually toppled the regime. But the joy of freedom was overshadowed by the aftermath: the annexation of Crimea, bloodshed in Eastern Ukraine, "undercover" warfare led by Russia, Odessa clashes with dozens died in a fire and hundreds injured - it all, in one way or another, stem from the reaction to the civil unrest on Maidan. The chronicles of Maidan and the events that ensued, the stories of different people. Hope, excitement, music, fear, fire, death, tears and a new hope again - you will see how this passionate revolution began and what calamities followed.
The editing of "Kiev/Moscow" is very challenging, and someone may think of its message as a slap in the face. But people don't – because the story is sung like a song! It has an emotional structure. Only materials colored with human emotions have the right to live. - Alexander Rastorguev, producer
Films
Films
Films
We make documentaries. You're welcome to join.