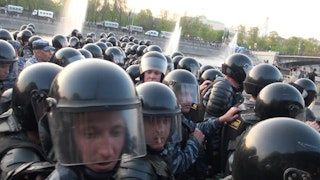 The Term
Chess game of Russian politics through human backside of the Russian protest.

Russia/Estonia, 87 min and 52 min, 2014
Directors - Alexei Pivovarov / Pavel Kostomarov / Alexander Rastorguev

Producers - Sarkis Orbelyan, Alexei Pivovarov, Pavel Kostomarov, Alexandr Rastorguev
Co-producers - Maria Gavrilova, Max Tuula
Production - Aviator Production (Russia) / Marx Film (Estonia)
Sales - TVF (TV, DVD, VoD) / Marx Film (theatrical, festival)
Festivals - Karlovy Vary IFF; Pacific Meridian IFF (Vladivostok, Russia), LET'S CEE IFF (Vienna, Austria), DocLisboa (Lisbon, Portugal), Inconvenient Films FF (Vilnius, Lithuania), DOK Leipzig, Molodist IFF (Kyiv, Ukraine), Sevilla Festival de Cine Europeo, CPH:DOX (Copenhagen, Denmark), IDFA (Amsterdam, Netherlands), Torino Film Festival, Festival dei Popoli (Florence, Italy), Hamburg Russian FF, Tbilisi IFF, Artdocfest (Moscow, Russia), Lavr Russian National Documentary Award, nomination for Best Documentary, Full Frame FF (Durham, North Carolina)
The documentary The Term combines a few plotlines of the main heroes of the anti-Putin opposition and shows them against the background of mass popular riots and news reports about Putin's whims. The film keeps observing them from a very close distance—but still in a detached manner, giving the viewers a chance to come to their own conclusions. It doesn't follow the historical chronology strictly, it focuses on the evolution of the inside world of the characters. The main heroes are Alexei Navalny who went all the way from an anti-corruption blogger to the alternative presidential candidate; Ksenia Sobchak, a glamorous TV star and allegedly Putin's goddaughter who switched to the opposition; her boyfriend—the liberal opposition activist Ilya Yashin; the left radical politician Sergei Udaltsov; the punk art band Pussy Riot, well known all around the world. The camera watches them at the protest rallies and in the courtroom, on the streets of Paris and on the stage, in police trucks and at parties, at their work offices and cafes.

The Term is a story of the fight for justice and ascension to the popular glory, a story of love during wartime, a story how the protest becomes the meaning of life.
At a time when the world's eyes are on Russia, this film is crucial to our understanding of the wider opposition movements within the country. The producers have faced police raids and the production has been halted several times, so the film itself is an extraordinary feat of opposition. - Julian Chou-Lambert, TVF
Films
Films
Films
We make documentaries. You're welcome to join.