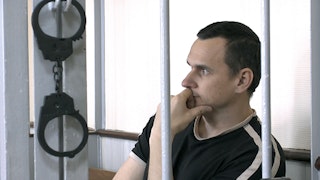 The Trial
The Trial: The State of Russia vs Oleg Sentsov

Estonia/Poland/Czech Republic, 73 min and 52 min, 2017

Premiered in Berlinale Special 2017
Director - Askold Kurov
Editing - Michał Leszczyłowski, Evgeny Zaozernykh
Producers - Maria Gavrilova, Max Tuula, Dariusz Jabłoński, Izabela Wójcik, Violetta Kamińska
Co-producer - Alena Müllerová
Production companies: Marx Film (Estonia) / Message Film (Poland) / Czech Television
Oleg Sentsov is a Ukrainian filmmaker, Euromaidan activist and native of Crimea. After the Russian annexation of Crimea, he became an active opponent of the occupation. In May 2014 he was arrested by the Russian security service, charged with planned terrorist attacks and transported to Moscow. After over a year in custody, he was sentenced to 20 years in prison, despite the fact that the testimonies were given under duress and evidence was insufficient. Sentsov never pled guilty.
Director Askold Kurov follows the progress of the trial and the attempts of Oleg's family, friends and lawyers to save him from prison. The notorious case inspired protests around the world: the European Film Academy and many renowned filmmakers such as Pedro Almodovar, Wim Wenders, Agnieszka Holland, Ken Loach, Johnny Depp and others called for Oleg's release. Kurov's investigation gradually reveals an absurd and frightening Kafkaesque story about how anyone can become a victim of a ruthless state machine.
Films
Films
Films
We make documentaries. You're welcome to join.